Simple, Green, Frugal Co-op: On Self-Sufficiency and Small Steps

This morning, as I drank my coffee and read my daily blogs, Simple Green touched a chord with me and as I went about my daily chores, I started reflecting on our own path towards increased self-sufficiency. Looking back on our semi-drop out of the rat race; initially the most important reason we did it was a sense of suffocation after 22 years of living in subdivisions.
From Backstory Although David and I never really talked about old houses while we were dating, we realized it was a shared love shortly after we were married and had purchased our own first home, .....we just had never really realized it until we found ourselves living in a subdivision on a 90 X 120 lot with neighbors on all sides and found ourselves shutting the windows whenever we had an argument.........! Suddenly, an old house in the country was being discussed.....often.

But, it was more than just the issue of privacy during heated discussions...i.e. it was little neighbor boys who snuck into your backyard while you were at work and took your german shepherd off the run line to wander about the neighborhood where said german shepherd took to doing his "business" in other folks yards.....not a good thing. In fact, one of our neighbors thought it was so far from a "good thing" that she shoveled up the evidence, stomped her way across her yard, then the street, up across our front yard...knocked on the door, and when David opened it, she threw the evidence at his feet! (she was thereafter referred to in conversation as the "shit lady".....)
And then more recently, there was that meth house that was just across the cul-de-sac~~~and the increasing restrictions put in place by the homeowners association. Anyhoo~~we were also dropping out to get back to what he and I had both known as children; a quieter, slower paced life where one could see and hear and experience nature with every fibre of your being; we were going back to a place where if you wanted to let your grass grow and have goats to "mow" it for you, you could; we were going back to a place where if you forgot to bring in your trash cans you found your neighbor had done it for you instead of a nasty letter in your mail box; we were hoping to give our children a sense of a life where you communed with nature instead of your neighbors stereo, where you had a sense of freedom instead of one of restriction....before they moved out and onwards in their own lives....

From Backstory David grew up in what could loosely be termed "country" - his childhood home was inside the town limits, but it sat on two acres of river front land.....and it was 60 years old when his folks bought it (1966)....that house had quite a history as it had been built for the Mayor of the town at the turn of the century and had a spot being a Retired British Soldiers Home before his parents purchased it and made it a single family residence once again...I grew up an Air Force brat with a South Carolina Farmer Boy father and an English School Girl mother....we never spent very long in any one place, but whenever we could live off base, Dad made certain we had an acre or two (or three) and that those acres had hogs, chickens and horses. During my childhood we lived in two old farmhouses, one in South Bend Indiana and one in Canton Ohio.....!
When we first moved in, our efforts were mainly to make it "ours" adding our furniture and photos and books and "our" colors on the walls; planting our roses and sago's. But soon, as we watched the farmers around us work their fields and our special farmer across the street began to share the fruits of his labors with us - bringing us sweet corn, peas, beans, squash, tomatoes and other marvelous tastes -
From March 2004 Mr. S. has a personal garden and has brought us fresh vegetables almost every day; cabbage and beets and carrots and broccoli. He is now planting his spring garden and will soon be bringing over tomatoes and onion and peppers and squash...I think I have found a little heaven on earth.


From April 2004 The rose bushes that have followed David since he was a child are now safely in the ground alongside the sidewalk that I uncovered on what used to be the front of the house. And the rose bushes that have been separated out from a tiny little stem Dad gave me years ago are also in the ground, one on each side of a little bridge that covers the ditch separating the driveway from the front yard. All of these rose bushes carry sentimental value for us; David's roses because he had the chore of caring for them as a child; we had these bushes at our very first home in 1982, moved them to our second home in 1990 and here they are with us at our new old home in 2004. My little rose bushes carry historic value for me as well as the little stem they came from were a cutting from a rose bush planted by my great grandparents at Whites Mill in Sumter South Carolina.
-our thoughts began to move towards those things that would allow us to save money and eat healthier and waste less. We had our own lemon tree and kumquat trees and access to several different kinds of orange trees and each time we reached out and grabbed a fruit I would think "I need to learn how to use these more - its too much waste"....and the slow process towards a simpler more self sufficient life began - not just a love of living without the busy-ness and noise of too many neighbors, but a simpler way of living.

From April 2004 It was wonderful to have room for the children to run and play and be as loud as they wanted, with no fear of disturbing the neighbors. We all played croquet, flew kites and threw horseshoes and Darrin, Josh and the kids had a water gun fight (water guns and kites courtesy of Nana).
I think that living in an old farmhouse seeps into your being in some mysterious sense; one begins to reflect on the lives that have been lived within the walls and on the grounds that surround you - where at first I concentrated on the landscaping that I was uncovering layer by layer, eventually I found myself questioning how things used to be for the housewife that cooked in this kitchen and tended the vegetable and herb garden that would have existed for her personal use.

From March 2004 The best of it has been reclaiming the grounds. The trees and shrubs were allowed to become overgrown and I have been in my element trimming and pruning. I have found treasures in almost every overgrown garden, from old bottles and pieces of the old crawlspace coverings to the bricks from the original fireplace and the original pathway on what used to be the front of the home.

...The wind blowing the rocking chair on the front porch has seemed to me to be the old lady, whose parents built the home and who lived here all her life; I imagine her spending a pleasant evening rocking on the old front porch seeing us bring the landscaping back to life.
By the fall of 2004, we were entering the first stage of empty nesting, Dallas headed off to his first year of college in August and Nikki moved into her first house on her 21st birthday in November. Although Hunter was only 8, he has always been our "self-raising" child requiring little or no supervision to complete chores, keep a tidy room, or do his homework. I suddenly had a lot more free time on my hands and therefore a lot more time to think about gardening and canning and candle making....you know, those things that the first housewife who lived here would have done to make this house a home for her own family.

As we worked towards completing the modernizing of the house that had been partially done by the previous owners, I spent my free time looking through country living themed magazines and my new subscription of Grit (a Christmas gift from my dad). I gathered ideas for decorating and gradually transitioned from the knick knacks of modern homes to the candle sticks of old and more utilitarian things like baskets for storage. And as I read about candle making, I realized that already I was living a life where electricity cannot always be taken for granted and that those candles I was placing out as decor were more a necessary item in my home then ever before. And I watched as the economy threatened to collapse.

I read about portable chicken coops and began to realize that we could have chickens here on our little half acre and leave our dependence on store bought eggs behind. As we ate the home grown veggies from our farmer, we began to read more labels and understand the slow poisoning of our systems that we are subjecting our bodies to purchasing the items in our grocery stores. We realized that a single pepper cost almost as much as a pepper plant and much more then a packet of seeds. My garden grew from container tomatoes and peppers to one with much more variety. And I watched as food prices and energy costs soared.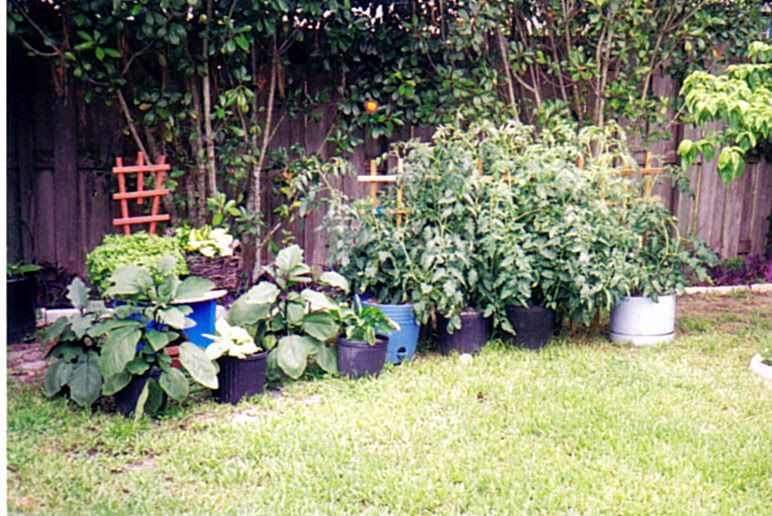 Subdivision Gardening 2003


Farmhouse gardening (with Mr. S.) 2008


Over the last year, I've made my own candles, attempted some canning, and transitioned the family from store bought breads to home baked ones, from cakes in a box to cakes made from scratch, from container ice cream to home made. Not just because I can do it because of the increase in my free time due to the growing up of my children but because of what I saw in the world around me.

My thoughts now turn to a clothes line out back (and how to deal with the wind swept dust that is a constant out here), a back up system for our water pump should the power go out (or should we be unable to afford to pay for it due to the coming increased costs), a cistern to catch rain water, berry bushes........I have gone from a woman who didn't own a single mason jar to one who now owns dozens......and one who is slowly stocking those jars with the staples of a kitchen...just in case.

It's not just that need to get away from the rat race that has set us on a path to increased self sufficiency; it's not just the mysterious way that life in a 100 year old farmhouse can cause a desire to live more simply and efficiently....its about this world we live in.

Its about a government that seems more about controlling us and limiting our freedoms then about the prosperity of its citizenry as a whole. Its about a fear that in the rush to go "greener" our government will be more about limiting our usage of energy then about discovering new ways to provide it; its a fear that as our government grabs more land and implements more taxes on farmers for the flatulence of their livestock or the dust the winds cause from their croplands and regulates that more of our nations corn crops are used for energy production then for feeding the people, that food will become more expensive and less available.

Its about keeping my family safe in the coming days as much as it is anything else.